Vice Chancellor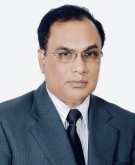 Prof Dr Md Jahangir Alam
Vice Chancellor
Welcome to Prime University.
Prime University is the first venture of the Prime Foundation. Among others, establishment of a first class
educational institution was one of the major agendas of the foundation.
t Prime University, we are interested in contributing to your character as well as your intellect. Wherever
your interest lies, be it Arts and Social Science, Business Administration and Engineering Studies, Prime University is here to assist you on your career path. We offer a customized educational experience by meeting students where they are and taking them to where they want to go. Our faculty will engage and challenge you and we are ready to help you with support, from financial aid to career advising and much more.
We believe the key to gaining maximum benefit from University experience is involvement. I encourage all
students to seek out all of the wonderful opportunities here at Prime University. Talk to faculty outside of the classroom, attend events on campus and connect to people and organizations in our community that keep you grounded while opening up possibilities for the future. By becoming involved a student may discover where their real passion lies and how to live out that passion in life beyond college.
As each semester begins, we all share the anticipation and excitement of new experiences, new acquaintances
and the knowledge that we will end the academic year as different individuals than we begin it. We will have mastered more subject material. At Prime University, you will meet professors and faculty members who kindle an interest or even a passion for further study of a discipline.
For all of these reasons and many more, a degree from Prime University is a valuable investment in your
future. Since our inception, over 10,000 students have graduated from Prime University and we are proud to share that our graduates enjoy a 95 percent job placement rate!
We promise at Prime University that you will find an environment that is intellectually challenging. When our
students, in turn, promise to challenge themselves intellectually and engage in our community, the result is a covenant relationship that creates an educational experience of enduring value.